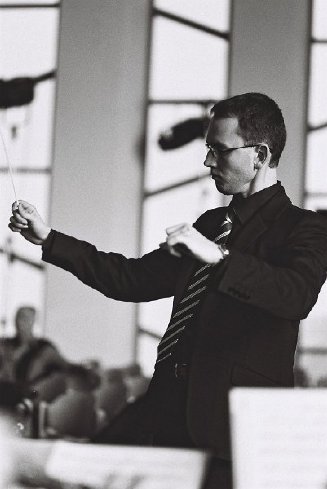 Our conductor, David Rodeschini was born in 1980 in Neuchatel, Switzerland. He teaches trumpet at the Ecole de Musique in Berlin and conducts the Symphonic Wind Orchestra Berlin WINDWERK.
David studied modern trumpet and baroque trumpet with Vanca Samonikov, Gabriele Cassone and Gérard Métrailler at the conservatories of Lausanne and Geneva. He received his soloist diploma with the highest distinction. He is a prize winner of various competitions, including the European trumpet competition "Lions Club".
David held a teaching position for the professional musician class at the "Institut supérieur de musique de Ribaupierre" in Lausanne, is a member of the baroque ensemble "Gli Angeli" in Geneva, gives concerts as a soloist with orchestra and organ and is active in brass chamber music.
More about David can be found here: